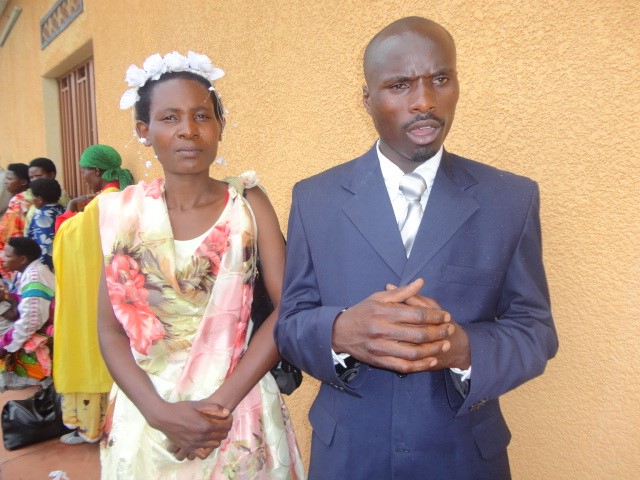 My name is HABIMANA Bonaventure, I have been trained in the matter of fighting domestic violence. I can say that we received talents and those talents are producing. We sacrificed ourselves because we knew our target. I'm very happy to share my testimony. When I received the first training in August 2012, our marriage was not legalized; I thought that we would legalize our marriage when we will have a lot of money to organize an impressive party. After training in collaboration with others couples, we were able to organize our legal marriage. Before, I had planned to do some extraordinary thing with many important persons escorting me, briefly I was overconfident. My mind had been changed; we organized a simple party without spending much money.

Now we have 2 children (Girl and boy), I treat them with love and respect. Before training, I didn't care about my children, sometimes I took "mutzing" without thinking about the ways of feeding my family or buying school materials for my children. I took this as a duty of my wife. Now, (after training on fighting domestic violence) I manage to be with my children, even in praying at the parish. This is the fruit of being trained. Regarding my work of farming (agriculture), I do it very well and I use to help my wife in domestic activities. Some people started saying that she poisoned me. Others say that she is like my sister. All these rumors can't do anything on our good relationship. We pray God, now she has a mobile phone, we can communicate easily even when we are not together.
His wife MUKAREMERA Jacqueline
"Thank you! I thank God for these trainings from ADTS on fighting domestic violence that we benefited. Sometimes, we had some misunderstandings, and my husband refused to apologize for his errors. But now, if we have such problems, we sit together and look for a solution peacefully. If it is a problem that requires an intervention of a third person, we, do it by consensus. These trainings helped us to have a same vision of things, we are very thankful to ADTS."